Form Guide for Coonalpyn's AORC Round 8 & 9
Coonalpyn, located about 143 kilometres south-east of the state capital of Adelaide and about 61 kilometres south-east of the municipal seat in Tailem Bend, will play host to rounds eight and nine of the Australian Off-Road Championship (AORC) this weekend for the first time.
This weekend will be double sprint format races, which means it's a case of hold it on and give your all for a lap as its you against the clock!
The weekend will involve every type of terrain you can think of, from sand, through to some Mallee scrub, to some hard-packed clay.
E3

Husqvarna Enduro Racing Team's Daniel Sanders is simply on a roll right now and is hard to look past anyone beating him as marches towards this year's championship crown.

With seven wins on the trot in 2019, can he make he make eight or possibly nine? You would brave to bet against him.

Beau Ralston, who is also mounted on a Husqvarna, trails the Victorian rider by 27-points in the championship. While the championship is still within Ralston's grasp, its almost getting to the point where its going to be impossible for him to throw any sort of challenge to Sanders in terms of winning the championship.

What a fight we have on our hands for third place. Andrew Wilksch (Motul Pirelli Sherco), who finished second to Sanders last time, and Jesse Lawton (Husqvarna) head into this weekend locked on 124-points apiece, while Matt Murry (Kawasaki) in ten points behind the pair.
E2

What does Daniel Milner and Sanders have in common? The KTM Enduro Racing Team star has replicated what Sanders has done in the E3 class. That is that he has taken out all the rounds thus far in 2019 and looks like he will continue his winning ways this weekend.

While Milner is on track to win the championship, he is only 21-points ahead of Active8 Yamaha Yamalube's Josh Green, who has been the second-best rider to Milner this year and is yet to win a round in 2019. In fact the last time Green round a round in the E2 class was back at fourth round of AORC in the 2016 season.

Making up the top five in the championship is Jérémy Carpentier (Yamaha MXstore Ballards Offroad Team) in third, Brad Hardaker, holds down fourth with Harrison Teed in fifth place.
E1

Active8 Yamaha Yamalube's Luke Styke goes into this weekend with just a ten-point buffer over Lyndon Snodgrass (KTM Enduro Racing Team), who picked up the round win last time out in Broken Hill.

Fraser Higlett (Husqvarna Enduro Racing Team) and Michael Driscoll (Active8 Yamaha Yamalube) sit in third and fourth place in the championship only 19 and 24 points behind the championship leader.
EJ

Kyron Bacon (KTM, MX Store) had his championship points slashed from a 22-point lead to 17 after the seventh round, when Josh Brierley (Husqvarna) went on to claim the victory in the red sand of Broken Hill. In fact, Bacon was on the bottom step of the podium in Broken Hill, finishing behind Korey McMahon (KTM).

With 100-points still up grabs in this year's EJ championship, the seven riders are all within for a crack at taking the crown. However, realistically, your main players will be Bacon, Brierley, McMahon and Cooper Sheidow (KTM). Only 48-points cover the top four riders.
Women's

Yamaha MXstore Ballards Offroad Team's Jess Gardiner proved at the last round that she was human after all, when she was finally denied victory for the first time since the final round of the AORC championship in 2018.

Who beat her? Emma Milesevic (Honda), an imported motocross rider, that's who.

Question is, now that Milesevic has the monkey off her back, can she keep her form going and win more races? Speaking about keeping form going, Gardiner will no doubt finish in the top three this weekend, baring any bad luck. In fact, the 26-year-old is just 27-points shy from scoring 2000 championship points in her AORC career, which has never been done in the Women's category.

Gardiner will still have to be on her game, not saying that she isn't, but she now only has a 27-point championship lead, over Milesevic, who is just one slender point ahead of Emelie Karlsson (Yamaha).

Making up the top five is Danielle Foot (Sherco) and Ebony Nielsen.
Juniors

Blake Hollis (Yamaha) continues his winning ways in the J4 class. Just like Milner and Sanders, he too has had a season which has 100% his way. Hollis' nearest rival, Mackenzie Johnson (Yamaha) had finished second to him in every round bar the last two rounds now.

However, Johnson still remains in second place in the championship, 31-points behind.

The fight is on for third place, with 19-points separating Oscar Collins (Husqvarna) in third, Charlie Milton (KTM), Zac Perry, and Kobe Conley (Kawasaki).

Riley McGillivray (KTM) leads the title fight in the J3 class with a 32-point buffer over William Dennett and Kodi Stephens (KTM), who are both locked on 140-points.

In the J2 class, its anyone's game, in terms of Billy Hargy (Husqvarna), who leads the title fight, one point ahead of Campbell Hall (KTM) and Max Phillips (KTM), who is one point behind Hall. This championship is going all the way down to the wire at Hedley for sure!
Veterans

Lee Stephens (KTM) got back to his winning ways at Broken Hill and will be looking to keep winning this weekend to try and extend his championship lead over Chris Thomas (Thomas Lee KTM). Jason Pearce remains in third place a further 49-points behind Stephens.
Masters

Kirk Hutton (Yamaha) is sure setting the sails towards his championship. Come sunset on Sunday evening, Hutton could be skipping away from South Australia with the championship locked up and put beyond reach. He heads into this weekend with a 44-point lead over Tim Martin.

As long as Hutton leaves this weekend with fifty points or more, it will be game set and match.

Rudd (KTM) sits in third place, eight points in front of Craig Treasure (KTM), so watch out for this battle over the weekend.
Click here for the full list of championship points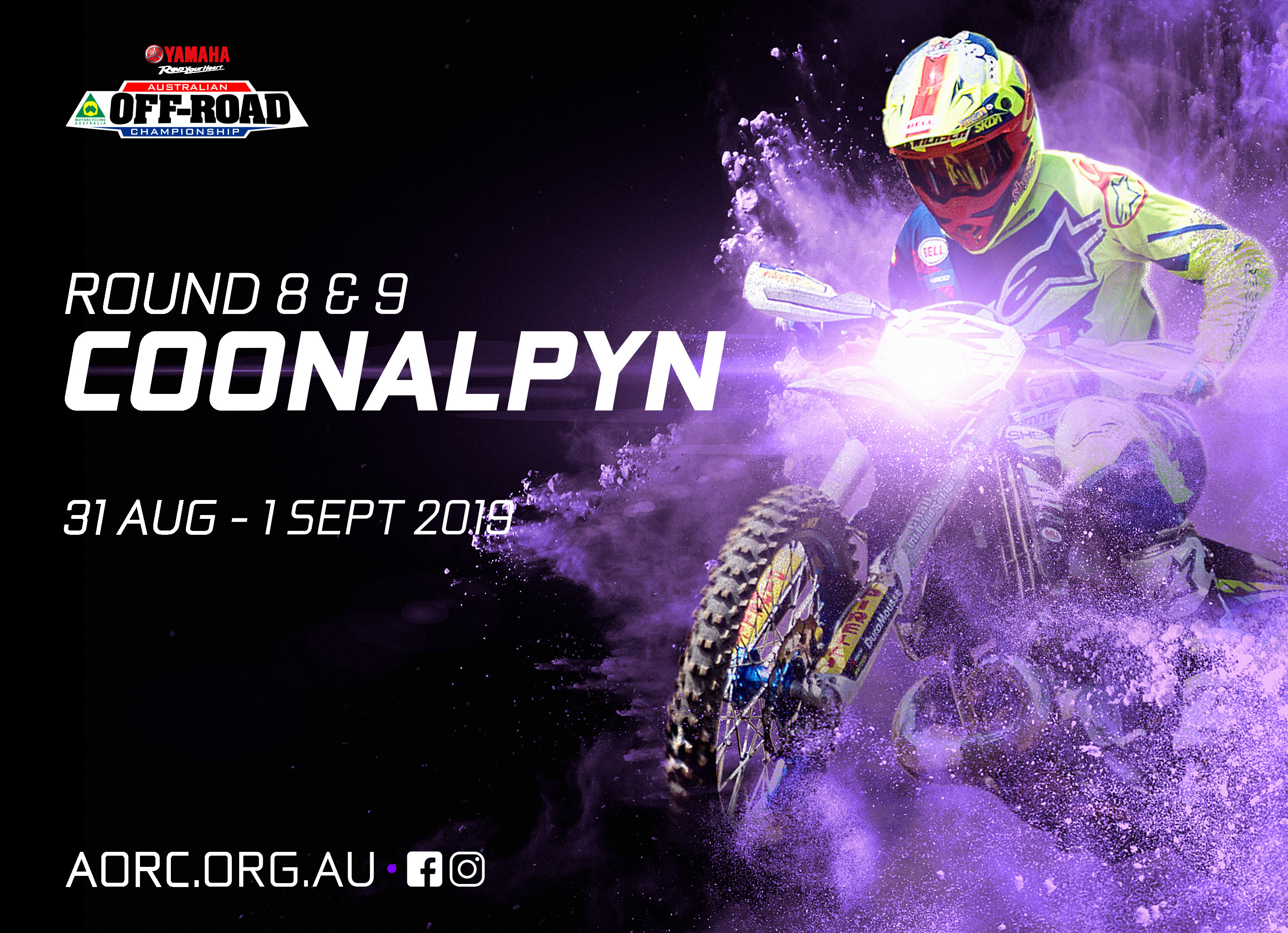 Stay up to date on all things AORC by following us on Facebook and Instagram, and access early updates and news by downloading the AORC app! Be sure to follow the Official AORC hashtag, #only1roadoffroad!
Russell Colvin